Deep Sea Fishing – I Want To Go Deep Sea Fishing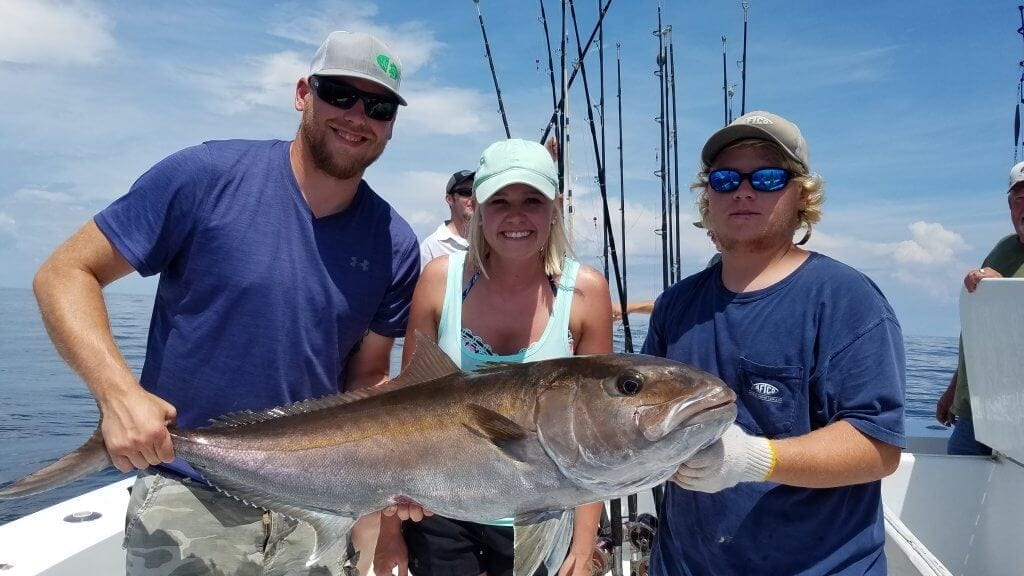 Deep Sea Fishing – Fishing For Giants
One of the most common phone calls we get is asking for deep sea fishing. However, some may not understand exactly what the term "deep sea" actually means. We hope that this blog will be educational for all anglers.
Going after big fish is usually what is on someones mind, and the perception is that you have to go deep sea fishing to get that accomplished. While that is certainly the case if you want to go after yellowfin tuna, that isn't what would get accomplished in a 4 to 6 hour fishing trip.
Deep Sea Fishing – Being Politically Correct
If you're looking for a 4 to 6 hour trip, then you're looking for an offshore trip. Offshore trips range normally from 4 to 12 hour fishing trips where the boat goes around 30 miles off the Gulf Coast. Technically speaking this is not a deep sea fishing trip. Those trips range from 12 to 72 hours and are generally way more expensive then the budget you may be thinking of.
More than likely you're calling with fishing budget. Don't be discouraged when you get greeted with a $3000-$8000 price point when asking for a deep sea fishing trip. Those trips are typically 1-3 day trips and allow for you and your guests to eat, sleep, and fish on the vessel you book. While these trips will gain you a more overall experience, and offshore fishing trip will allow for a similar experience within a small time frame and less weight on your pocket.
Deep Sea Fishing – So What Is Offshore Fishing
Typically you'll be doing a mixture of trolling and bottom fishing when booking an offshore fishing trip. Your captain already has preset destinations saved in his vessel's GPS system. Depending on how long of a trip you're looking to book will determine how far out you go and how many spots you can fish.
Offshore fishing can range from anywhere between 3-30 miles offshore. You would be surprised at the amount of distance you don't have to travel to hook into monster fish. During Red Snapper season, we have boats that go out less than 5 miles and offer you the opportunity to hook into monster 25lb plus snapper. (Book Red Snapper Here).
Other typical fish targeted while offshore fishing are amberjack, king mackerel, spanish mackerel, mahi mahi, sharks, mango Snapper, triggerfish, & grouper.
Deep Sea Fishing – So What Is Deep Sea Fishing
These trips are for those willing and ready to battle the seas. Trips of these as mentioned above are usually over 24 hours. Most folks book these trips to target fish that require patience. Those fish are blackfin tuna, yellowfin tuna, swordfish, blue & white marlin, & bigger sharks. You can expect to travel anywhere from 30-100 miles offshore and typically target the oil rigs located off the coast of Louisiana.  If you're looking to fill your freezer with fish, then you will most certainly want to book a deep sea fishing trip. You'll have enough fish to feed an entire nation in Africa.
Deep Sea Fishing – Set Yourself Up For Success
No matter what kind of fishing you're looking to do, make sure to set yourself up for success. Kindly give us a call and tell us the kind of experience you're looking to achieve. We had a variety of different captains that have different boat sizes while also offer unique experiences. Each guide has years of fishing under their belts. They are ready to take you on the trip of a lifetime. Simply call us at 850-375-2223 and we will match you with the best captain based on your fishing specifics.
Get seasick? Read about the difference between inshore and nearshore fishing trips. It's a completely different experience that you may enjoy. It can offer you a ton a different opportunities while being just as fun.