Licenses: What Do I Need To Go Duck Hunting?
You're going coastal duck hunting this season but need hunting licenses? Here are the answers to all your frequently asked questions.
Do I need licenses?
Below are the links to all the required permits and licenses you will need. Keep in mind government regulations are subject to change and we must see your permits and licenses before your hunt begins.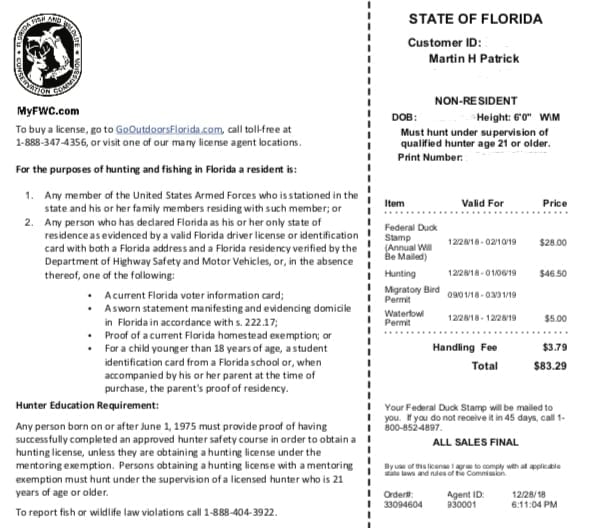 What kind of gun, ammo and choke do you recommend?
Personally, I'm a big fan of double barrels. The simplicity of less moving parts fairs well because of our sandy and salty conditions. Most waterfowl hunters these days tend to lean toward semi-automatics. Either one will work well, as long as you have the right choke at the right time. We suggest a variety of modified and full chokes in the blind. You will experience the opportunity for both close and long-range shots. If you have the choice of a camo gun or not, choose camo.
What kind of camo is best?
Lighter waterfowl patterns work best in our coastal environment. Our team is big fans of Realtree Max 5 and Mossy Oak Blades patterns. As a result, don't feel as if you need a whole new wardrobe. Many of our guests sport their deer hunting patterns while in our blind. Keep in mind that temperatures during our season can vary greatly. As the sun comes up the temperature can rise fast, so dress in layers if at all possible.
Camo/Clothing Check List:
Are waders necessary?
Waders are not 100 percent necessary since our hunts happen more often on dry land. While our customers rarely have to enter water over one-foot deep, we can't guarantee that this will be the case. When the entire party does have waders, we do have more flexibility as to where we can hunt. Tall waterproof boots ARE 100 percent necessary because of possible tide changes.
Do you clean the birds? What if I want to mount one?
Our guides will clean any bird you do not want to mount. We typically burst out the birds and wash them off and place them in a ziplock bag. However, ice can be provided at no extra cost and coolers can be purchased nearby if you need.
If you're considering mounting a giant redhead drake or beautiful bufflehead because it looks awesome, have no worries. We have two options. One is to clean off the bird and package it for transport to the taxidermist of your choice. The second option is for us to take it to our taxidermist and allow the two of you to work out the details. Either way our team is happy to help you.
What if it rains?
Our boat captains do have the final say in trip cancellations because of weather concerns. While the nasty weather is typically a good thing for duck hunters our insurance will not allow us to operate under a small craft advisory. Check the weather a day or two before you arrive and pack accordingly.
Because lodging arrangements with Intercoastal Safaris are non-refundable, trip insurance is strongly suggested
What is the best time to go?
While there are some early birds that have built up in the area for the season opener in mid-November, my money is in January. Each year there is a day some time close to Christmas when the migration hits us hard. The number of ducks grow significantly overnight and the bright red heads appear to be bigger than ever before. Long story short, get your permits and licenses ready for duck hunting closer to the end of January, which is better.
Coastal Duck Hunting is the definition of "Uniquely Coastal Hunting & Fishing." If you would like to learn more about this opportunity, please call our office at 850-375-2223 or click here to email Intercoastal Safaris.