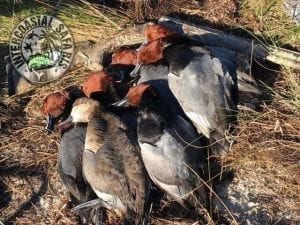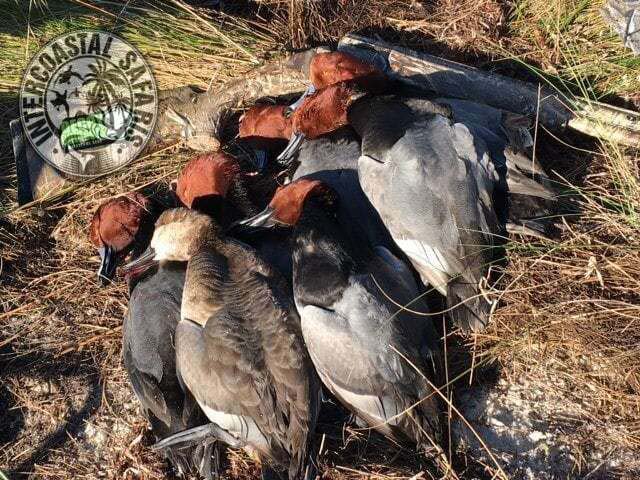 Duck Hunting is currently unavailable through Intercoastal Safaris at this time. We hope to bring it back in the future. Thank you for your support.
When people think about the coast of Alabama they typically think about the white sandy beaches, emerald green waters and saltwater fishing; not duck hunting. To the surprise of many, coastal duck hunting provides ample opportunities to squeeze off some steel shot shells at a wide variety of waterfowl. You won't be sitting in a freezing cold field or having to break ice while wading through the swamp when coastal duck hunting.  In fact, on some of our hunts, you don't even have to put on waders. I know what your thinking, that this all sounds too good to be true. Therefore, we encourage you to not take our word for it but rather give it a try this season.
3 Ways to duck hunt on the coast of Alabama: Hunt the beach
Enjoy a smooth and dry ride aboard one of  2 center console boats to our secret spots. Then enjoy a hot breakfast while 2 guides set up the blind & put out decoys. Because we hunt the south end of the migration route where the birds raft up, in peak season (January) there are no shortage of targets. This creates options for a successful morning or evening hunt all while sitting comfortably on the beach. Redheads, buffleheads, & bluebills are the primary target on the beach; however, don't be surprised when goldeneyes, geese, pintails, & canvasbacks drop in on occasion.
3 Ways to Duck Hunt on the Coast of Alabama: Hunt the Back Bay
Getting off the shore and hunting the north end of the bays provide waterfowlers a wider variety of species. When hunting from a traditional surface drive boat in areas such as the Perdido River, Palmetto Creek, and Bon Secour hunters can expect to see more wood ducks, canvasbacks & mallards. Our 2 man hunts allow for 2 hunters and a guide to engage in a more familiar style of duck hunting while hunting over salt water. These hunts offer a great mix of both puddle ducks & diver ducks.
3 Ways to Duck Hunt on the Coast of Alabama: Hunt from a Pontoon Boat
One of the greatest barriers of entry to the sport of duck hunting is all the specialized equipment one typically has to have in order to take part. Keeping in mind that a hunter often needs waders or tall boots not to mention specialized camo, it's easy to see how duck hunting is not the most practical sport for new hunters to simply try out for the day. That's where our pontoon boat comes into play.
Imagine This
You walk onto a comfortable pontoon boat around 5AM, listen to the radio and sip on coffee with friends as you enjoy a 20 min smooth dry ride along the coast. Once on location the guides toss out the anchor & set out the decoys. While watching the sunrise over the sand dunes,volleys of ducks come right into the decoy spread in front of you. The dog retrieves the fallen birds. You eat a hot breakfast, walk around the boat, & cut up with your friends until we reached our limit or the birds stop coming in. Notice I mentioned nothing about mud, specialized equipment, freezing to death or doing anything other than relaxing while you shoot birds! In fact, now that I think about it, this may not be the best way to break in a new waterfowl hunter because they will expect it to be this easy every time.
Gulf Shores
Duck hunting in the Gulf Shores area is one of the best kept secrets in the south. The season starts mid November and runs till end of January. Give our hospitality desk  a call 850-375-2223 and I promise we will make it easy on you.