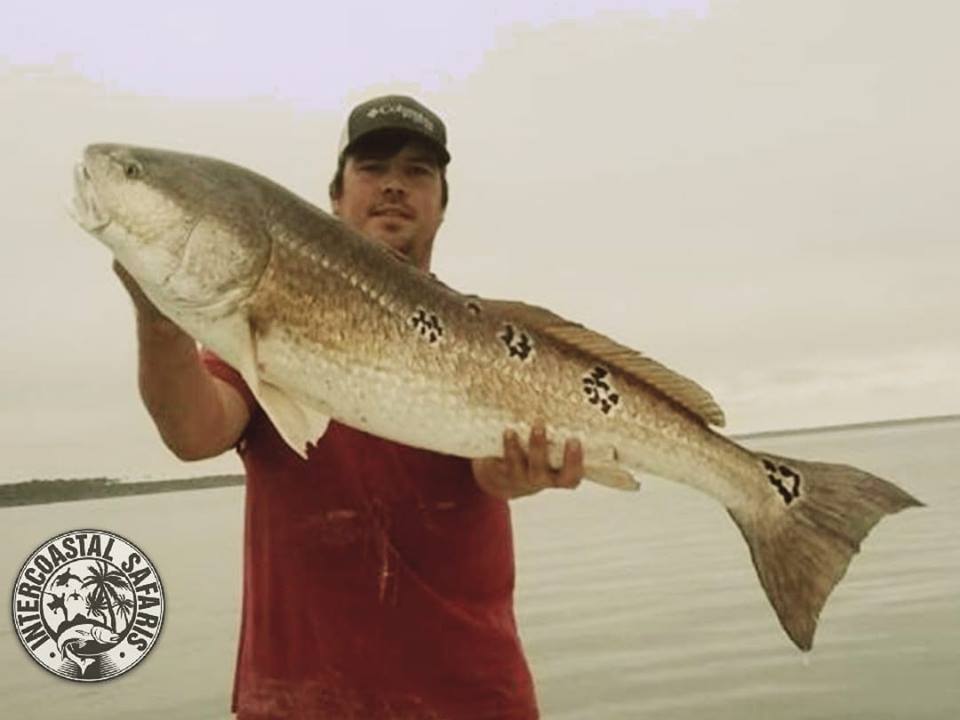 When I think of Fall fishing on the Gulf Coast, Bull Reds come to mind. The dream is simple, land a giant Bull Red in super shallow waters. Many 1st time saltwater fishermen love the fight of a Redfish because it reminds them of the biggest bass they ever had on the line.
Fall brings cooler water temps so the Redfish, along with many others, conjugate in the deeper holes. This is also the time of year Redfish spawn which makes for finding bigger schools of fish. Redfish school according to size, so when you catch that 30-40 pounder it's very likely that there are more big ones there as well. Depending on weather patterns, marshes tend to hold the most fish. These marshes are sometimes so shallow that fishermen "sight-fish' for them. The experience of catching a 30lb bull red in 3-feet of water, is what many inshore anglers come to the Gulf Coast for during the fall.
Redfish in the Fall | Fishing Technique
As fall temperatures drop, the redfish metabolism slows down and they tend to burn more energy in search of warmer holes and canals. With this being the case, the key to finding redfish in the fall is searching shallow water for deeper holes and light structure. Because the bigger fish that occupy these holes have a slower metabolism, they also have a healthy appetite. Structure and shoreline often work as a funnel for shrimp, crab, mullet, and other bait fish. If you find the bait, you find the fish! One example of this is found in the fact that redfish are more likely to attack crab during the winter months. The small crabs hang out on oyster and sand bars.
If you find yourself in an area where the majority of the water is deeper, such as the middle of the bay, try locating holes with your fish finder and using chunks of ladyfish and cut mullet. Because finding ladyfish in the fall can be tough, take advantage of the summer months when they are plentiful along the beach and surf fish in an attempt to stock your arsenal for the upcoming fall season. If you only have a limited amount of cut ladyfish, starting off with artificial baits to explore new-found holes will prolong your cut bait supply.
Redfish in the Fall | Location, Location, Location
Along the northern gulf coast, you're going to want to search out shallow bays such as: Mobile Bay on the back side of Fort Morgan and St. Andrew's Bay on the east end of Panama City Beach. In both cases, the bays are vast but good holes are somewhat easy to spot. Knowing where to go in the bays is key.
In Fort Morgan, there are many jagged outcrops of land which create holes along the eastern shore of Mobile Bay. Dixie Bar off the tip of Fort Morgan, is a little more than a very large sandbar creating shallow channels slightly offshore at the mouth of Mobile Bay. Dixie Bar has a well earned reputation of "THE PLACE" to hunt bull reds in Alabama waters.In St. Andrew's Bay, Hurricane Michael was kind enough to leave behind several broken docks which are now serving as artificial reefs for the mud minnows and smaller crabs that the larger bull redfish are on the hunt for.
Captain Perry is a native to Fort Morgan and has fished the area for his entire life. His flat bottom kinner boat is ideal for taking full advantage of the opportunities surrounding Fort Morgan. In Panama City Beach, Captain Darren, has spent his professional career finding those not so well known honey holes that line the shores of St. Andrew's Bay.
Redfish in the Fall | Cast & Blast with Intercoastal Safaris
One of my personal favorite activities in the fall is casting and blasting right here on the Gulf Coast. Intercoastal Safaris offer the unique combination of Waterfowl or upland game bird hunting and inshore fishing from October to March. If you're looking for a uniquely coastal hunting and fishing experience, please give Stephen Lee a call here at our office to discuss the various Cast and Blast opportunities.