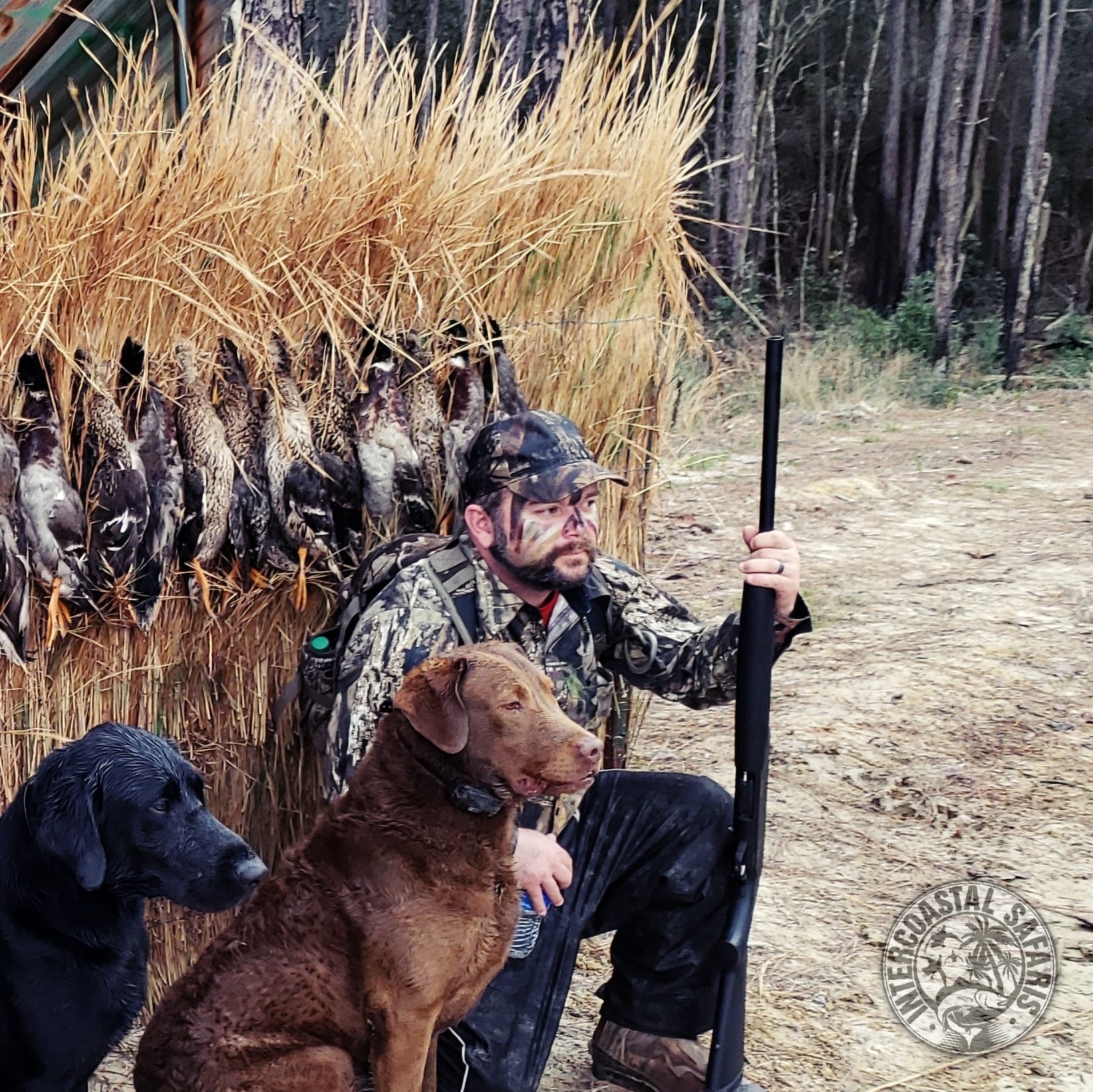 Thank you for visiting Intercoastal Safaris website looking for duck hunting in Alabama. Unfortunately at this time we are unable to offer any of our normal hunts. Our business, like a lot of others, has taken a major hit with the pandemic. We appreciate your support at this time, please consider booking a charter fishing trip with us or purchasing some items from our Gear Up store. We'll be producing more content soon to help you on your own duck hunts until we can find a way to provide guided duck hunting trips ourselves again.
Thank you from the team at Intercoastal Safaris.
(Below is content produced when we had trips available. We hope to be able to do this again in the future. As always, thank you for the support.)
As featured on The Truth About Guns with Dan Zimmerman.

Intercoastal Safaris is pleased to provide a uniquely coastal duck hunting experience. There'll be no breaking ice in swamps or freezing your tail off in fields. We're hunting from white sand beaches on the beautiful Gulf Coast in Florida!
Our duck hunting in Alabama takes place on a private duck preserve just 30 minutes north of Orange Beach, Alabama. This style of Alabama duck hunting provides an opportunity for mallards from mid-November to the end of February.
Coastal Duck Hunting in Perdido Key, Florida!
Our day starts at the Flora-Bama Watersports Marina on Perdido Key, FL. We use customized center console bay boats to provide smooth, dry transportation for our customers. Because our duck blinds are found at the south end of the migration route, the birds pile up creating the opportunity to have successful morning and evening hunts. These hunts take place on Florida waters.
NEW! PONTOON BOAT DUCK HUNTING!
Upgrade your coastal duck hunt to our new Pontoon duck hunting experience. This hunt allows sportsmen to leave the waders at home and set up camp in the middle of the Intracoastal Waterway! Pontoon boat hunts can also hold up to 6 hunters (instead of the 4 for center consoles). These hunts allow our guests to move around easily if the ducks aren't in a certain location. With a grill for cooking sausages and a mini heater on boat, duck hunting has been taken to a whole new level of luxury. These hunts take place on Florida waters.
Preserve Duck Hunting in Alabama
In the world of waterfowl, hunting a duck preserve is about as close as one can get to a guarantee. In an effort to insure flight conditioned birds, we raise our own free range mallards on the very same pond your hunting over.
Duck preserve hunts take place on one of two ponds where our waterfowl are raised. Through our seasonal release program we can ensure our guest will enjoy fat green headed mallards dropping through the pines and cupping up right in front of the blind. These hunts are perfect for those looking to entertain guest so be sure and ask about our hospitality packages.
Check out our blog post on the essentials you'll need to come duck hunting with us. Click here!