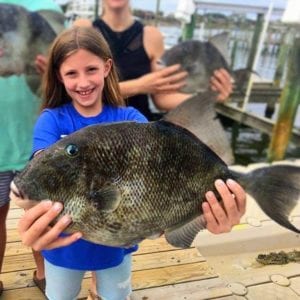 With many parts of the world's economy taking a hit and travel bans slowly but surely going into effect around the country I'm sure that the charter fishing industry will suffer this March. Factors such as this are expected to drastically limit the amount of boats going fishing, this is obviously bad for the economics of fishing but there is however an upside to this unique situation. Those still able and or willing to experience charter fishing along Alabama's coast will for the first time experience extremely low fishing pressure during the spring charter fishing season.
With the temperatures this past winter being significantly higher than normal are you fishing activity has remained steady throughout the winter and is looking strong going into spring. While the pompano are running strong along the beaches surf fisherman are not the only ones cashing in on the action. Offshore anglers are expected to have an excellent trigger fishing season during the month of March. While gag grouper and red snapper constantly remind charter fishing guest that their season does not open up until midsummer the red grouper and scamp is expected to open in May. Even though these fish are not very prevalent along Alabama's coast they in addition to trigger fish provide offshore anglers with a opportunity to fill their coolers full of some of the better meat the Gulf of Mexico has to offer. In addition 4 million snapper are readily available and have a year-round open season.
The inshore waters of the Orange Beach area has been a bit muddy in recent weeks due to above-average rainfall in late February. This rainfall has resulted in vast amounts of freshwater dumping in to Alabama's bays. Because of this you're going to want to look for saltier water when inshore charter fishing . As a result of the freshwater influx big bull reds will most likely be found on the shallow sandbanks near Perdido Pass in Dixie Bar in Fort Morgan. Along the same lines you're going to want to look for deeper holes especially in old River and Big Lagoon when fishing for speckled trout. If the rain slows down to a normal pace this could provide for some excellent sight fishing in shallow inshore waters.
Speaking from personal experience it would be my preference to engage an inshore charter fishing during the month of March in my opinion that where one would find the majority of the action. However on a calmer day one could and should be easily enticed two head slightly offshore in an attempt to fill their cooler with trigger-fish. Trigger-fish remain one of the better tasting fish according to many chefs in Orange Beach. Weather you're looking for the excitement of a shallow water spot and stalk type trip or simply want to feel you are cooler offshore our staff here at Intercoastal Safaris is happy to help you make that happen.