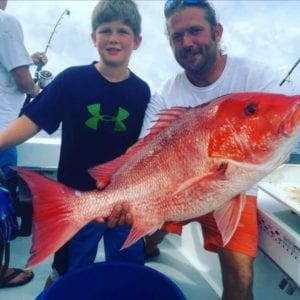 In Panama City Beach, a vast array of fish species are currently on the bite. As part of the wonderful Gulf Coast of Florida, Panama City Beach provides quick access to inshore grass flats, residential structure, as well as near shore and offshore reefs. With so many opportunities for great fishing in the Panama City Beach area, there are several targeted species this time of year that professional and amateur anglers will be able to target and land. 
Inshore
Much like last month, the primary targets for inshore fishing are going to continue to be Redfish and Sheepshead in the Panama City Beach area. Bait shops and marinas in and around the Highway 98 bridge should start to see some improvement in the frequency of having live shrimp as temperatures trend upward and more shrimp and bait boats are out on the waterways. If live bait continues to be an issue, using the Berkeley Gulp! Shrimp always has consistent results. To shake things up, go out at night to residential docks lit with underwater dock lights to witness some nighttime frenzy action. Additionally, the flounder bite should come back as the weeks continue. As a bottom dwelling inshore fish, look for flounder gigging trips at night or us Berkley Gulp! Mullet to get a bite.  Check out an inshore charter guide to get on the bite and have a great time in Panama City Beach. 
Offshore/Nearshore
Additionally, the mingo/vermilion snapper bite will continue in the Panama City Beach area.  two hook drop rig with cut squid or mackerel and cigar minnows will continue to produce fish.  Farther offshore, the wahoo will still be around using deep diving trolling tackle. The Yozuri Crystal 3D Minnow Deep Diver will continue to be the best bet. However, the real prize will be the arrival of Cobia in the coming weeks as they migrate west to spawn off the coast of Louisiana. Be sure to check in to our blog as these fish arrive for tips to get a bite as well as a Cobia Trip to have a chance at this top tier prize. 
Piers and Beaches
March in Panama City Beach continues to bring action to the piers and beaches in the area. Consequently, the Pompano bite will continue to improve as more and more move into the waterways.  Similarly to last month, pompano rigs using cut shrimp or sliced sections of Fish Bites will give anglers their best chance. Anglers can continue to anticipate whiting, redfish, and black snapper to actively take your bait as well. Continue to expect a sheepshead bite around bridges, residential structure and rock formations near the pass.