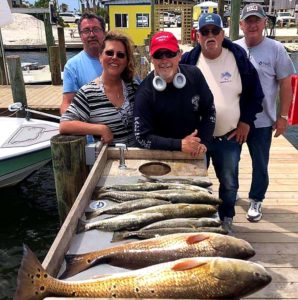 Catching Redfish in Alabama is a great time. One of the truly amazing features of Alabama is it's 600 mils of beautiful diverse coastline. From Dauphin Island in the west to Orange Beach. Sharing its eastern border with Perdido Key, FL. Alabama's coastline provides ample opportunity for some of the best inshore fishing along the Gulf Coast. The multiple bays, lagoons, grass flats, rivers and sand bars make Alabama a great place to catch Redfish.
Catch Redfish All Year
During the spring, the redfish begin to hang around some of the many small inshore islands. Up until summer's end, Redfish can be found darting through the grass flats. In addition, there is no shortage of holes holding fish along Alabama's intracoastal waterway. During the winter months, Alabama's redfish are looking for shallow, warm, dolphin free waters. The north sides of both Dauphin Island and Fort Morgan are well known Redfish hot spots in Alabama during the winter.
Orange Beach, Fort Morgan and Dauphin Island are home to most of the sport fishing marinas in Alabama. For more information on fishing for Redfish in Alabama, feel free to check out our other blogs. These trips are among the most popular one's we offer, so be sure to book early. Keep in mind that many of the restaurants in the area offer hook and cook options as well.