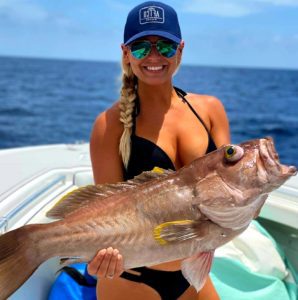 Orange Beach is home to a wide variety of fish that are abundantly biting Inshore, Offshore, and on the Beaches and Piers in the month of February. In particular, targeted species in February in the waterways around Orange Beach, AL include Sheepshead, Redfish and particularly Bull Reds inshore, and mingo/vermillion snapper, wahoo, and Blackfin Tuna offshore. Additionally, reports recently started showing pompano arriving west of Orange Beach and in Panama City. As water temperatures continue to rise in to March, Pompano should continue to move west into the Orange Beach pier and beach zones in the coming weeks. However, whiting, redfish, and bull reds are still biting on the beach surf fishing. With spring knocking on our shores and bringing a rise in water temperatures, more action should come in the Orange Beach area. 
INSHORE FISHING
In recent weeks, Inshore fishing in the Orange Beach area has produced a good amount of sheepshead and redfish in residential waters fishing dock structures with live shrimp. This time of year can potentially be difficult to find live shrimp but a good back up is Berkeley Gulp! Shrimp on a jig head and slowly bounced around the bottom and near dock pilings. One of Intercoastal Safaris recent charter trips with Navigator Charters got on the Sheepshead bite on the north side of Ono Island in the Intercoastal Waterway. The redfish weren't on that particular day but, using the same method of fishing docks and structure should still produce redfish along with the sheepshead. As water temperatures increase, the bite should turn on more and more into spring. It is worth noting that redfish in the area have a slot limit for a fish you can keep in your cooler to take home. To make excellent family memories, look for an inshore charter captain in beautiful Orange Beach, AL.  (also use Alex's sheepshead picture)
OFFSHORE FISHING
On the other hand, offshore has been producing wahoo and blackfin tuna in deeper blue waters off the Orange Beach waters. The preferred method for both these fish is trolling but in two different ways. The blackfin tuna have been biting on trolling cedar plugs and artificial flying fish lures. These lures bounce in and out of the surface of the water in an erratic pattern and the blackfin can even give you an aerial show. (video link maybe?). Similarly, wahoo will attack trolling baits, mainly Yozuri Crystal 3D Minnow Deep Diver. To improve angler's chance, you can also use a planer rig to get your lures deeper than the medium depth dive of the Yozuri crystal minnows and hit more of the water column wahoo frequent. Offshore but before the deep blue water, mingo/vermillion snapper are biting. The use of a two hook drop rig with cut squid and mackerel with maximize your opportunities to catch these fish. Be sure to check out Offshore Charters in Orange Beach to book your trip. 
PIER AND BEACH FISHING
The latter part of February in Orange Beach shows an increase in surf fishing action off the nearshore waters around the piers and beaches. The prized catch for fun and table is the imminent arrival of Pompano. Therefore, using pompano rigs using cut shrimp or sliced sections of Fish Bites will give you your best chance at landing these fish. Furthermore, these same rigs should be effective in attracting whiting and redfish to take your bait.  Be prepared, as a Bull Redfish might decide to take the bait and give you a memorable fight. In addition to the pompano and redfish nearshore, black snapper can be found in and around the jetties and bridge of the pass.  Carolina rigs or free handing live or frozen shrimp on a small hook have enticed these fish to bite. 
WE HOPE YOU'LL DOWN AND SEE FOR YOURSELVES WHAT'S BITING IN ORANGE BEACH, ALABAMA!