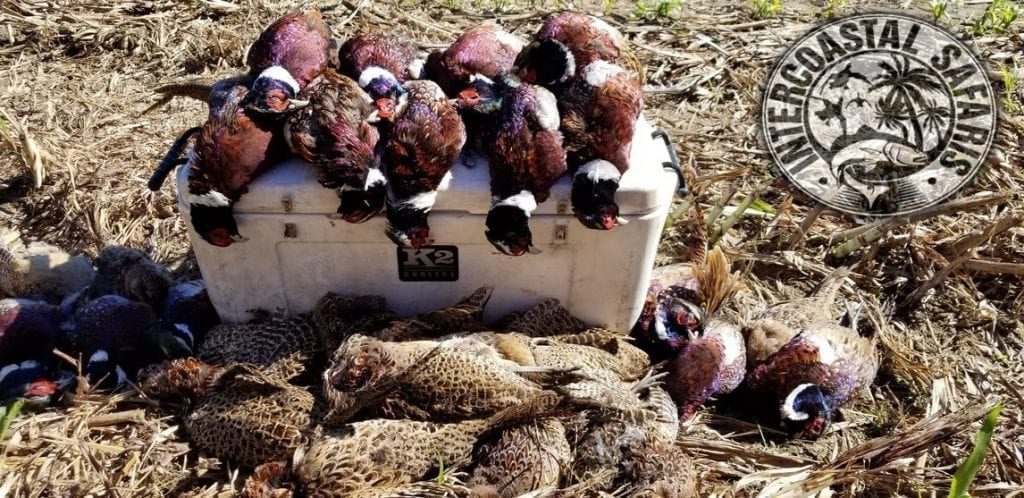 Written by: Ashley Conway
I had my first pheasant hunting experience recently and it was nothing short of amazing. I have been deer hunting before but never on any type of upland game hunt. If sitting in a stand alone in the woods in complete silence is not your idea of a good time, then you need to try pheasant hunting or quail hunting. These hunts are not reserved for big burly men. This is a great hunt for women and newcomers alike, especially those who have little to no hunting experience. In this blog I will tell you a little about my experience, why this is a great hunting trip for groups, and let you in on some tips to keep in mind.
MY FIRST PHEASANT HUNT: THE EXPERIENCE
One of the more appealing aspects of the experience was the guide's friendly approach to putting his knowledge to work. Furthermore, the guide's relationship with his dogs is unlike anything I've ever seen. Watching all the dogs work the field together in unison proved to create a sense of constant anticipation of the next covey rise. A covey rise is when a group of birds fly up right in front of you. Once you witness that, you're hooked and you won't be able to stop making it rain feathers until the hunt is over. Our group harvested 33 birds during our 4 hours in the field and rest assured, time really flies when you're having fun.
MY FIRST PHEASANT HUNT: A SOCIAL SPORT
Upland game hunting is one of the more social outings in the wonderful world of wing shooting. There is no doubt that this is a social sport. Guest are welcome to converse among themselves as they watch the dogs do the majority of the work. The logistics of such hunts along with the social nature stated here, allow opportunity for larger groups such corporate events & bachelor parties.
MY FIRST PHEASANT HUNT: MY HELPFUL TIPS
Bird dogs typically work best in the cooler temperatures.  As you are walking, you are going warm up fast. Because I dressed like I was hunting in the snow, I was quickly drenched in sweat. Therefore, my first tip is to dress in easily removable layers. While the hunts begin in cooler weather, keep in mind, it heats up fast. The ability to add or remove layers with ease is a must. Make sure you wear supportive shoes as you will be treading through uneven land such as lace up boots. Plus, a boot will help protect you from any ant beds you accidentally walk through like I did. In addition to layers and good shoes, wearing ear protection is another great idea. Guns are loud so be sure to protect your ears with some type of ear protection. Finally, take advantage of local restaurants that will prepare your birds for you and your group. The Flora-Bama Yacht Club is a favorite among our guest in the Gulf Shores area. Not only is the food on point and served with a smile but you can't beat the location or waterfront view.
Come hunt with us!!
We can't stress enough just what a great option for corporate and large group events this is. Don't miss out on this easily accessible team building activity. For more information on quail or pheasant hunting options around the Gulf Shores area please call our hospitality desk at 850-375-2223. #HuntProud