Red Snapper Fishing in Alabama or Florida
Don't miss your chance at bringing home this highly-prized game fish!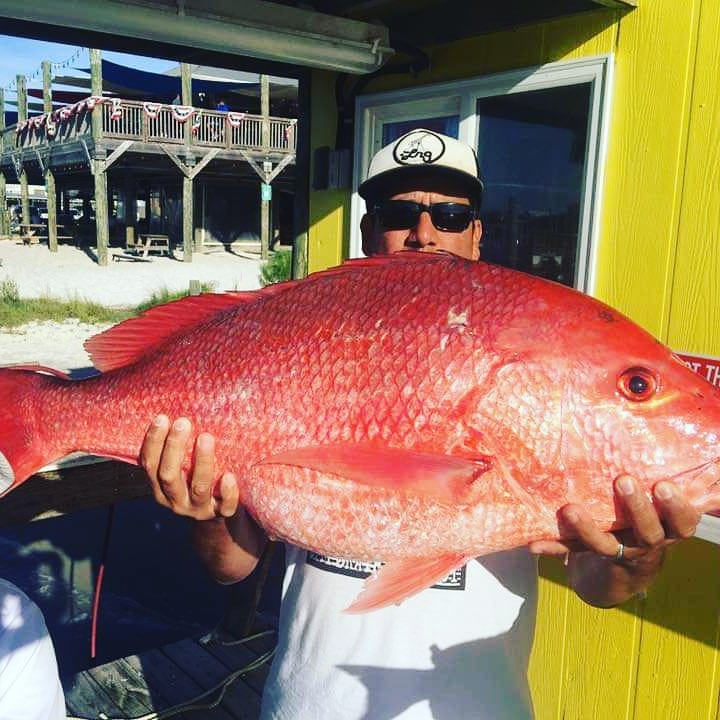 As featured on RTX Travel.
The Gulf Coast for anglers, is a great destination for red snapper fishing—and for good reason! The warm waters of the Gulf of Mexico hold huge numbers of these hard-hitting, great-tasting fish.
Intercoastal Safaris works with a small number of professional captains to offer a variety of red snapper fishing trips in Alabama and Florida for groups of two to 10 anglers. These trips start at five hours and include fishing permits for all anglers. Once everyone on board has met their two-fish limit we troll for kings and Spanish mackerel. Of course, we always keep our eyes out for opportunities to target cobia and mahi-mahi!
We offer two distinct fishing experiences, each of which brings a unique experience to the table:
Center Console Red Snapper Fishing in Alabama or Florida
For groups of up to four, we suggest booking a snapper fishing trip on one of our center consoles. These quick, versatile boats are fishing machines. Their smaller size gets you to the fish fast, and the commanding view from the cobia towers means nothing escapes their sharp-eyed crews.
Because they don't rely on the noisy diesel engines needed by larger vessels, center consoles can quietly ply shallower water. Anglers looking for a challenging fight love chumming fish up to the surface and busting giant red snapper on light tackle.
Large Boat Red Snapper Fishing in Alabama 
For bigger groups of five to 10 anglers, our larger boat is also perfect for bringing home a cooler full of Orange Beach Red Snapper. The full galley, bathrooms and bedrooms on board make this vessel a favorite among groups with women and children.
Our clients appreciate the air-conditioned cabin with comfortable seating and TV, especially during the warmer summer months. Our fully armed boat features  state-of-the-art electronics, a captain with over 20 years' experience and very proactive and attentive mates.
Add a Hook and Cook Dinner To Your Trip
Can't wait to get home to try that succulent Red Snapper? Our Hook and Cook allows local chefs to prepare your catch in a way not offered on their own menu! Included with this meal is an appetizer and one round of drinks.
Alabama Red Snapper Fishing and Hospitality Package
If you're looking to entertain clients, friends or family ask about our hospitality package! This full-featured offering includes complimentary beverages, cozies, light lunch and a photo/video package to remember your day on the water.
To top it all off, enjoy your catch as our guest at the Flora-Bama Yacht Club for a family-style gourmet hook-n-cook like no other. Check out the video below and call Intercoastal Safaris for pricing.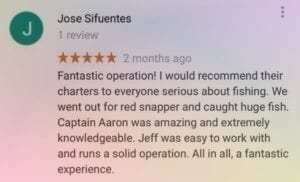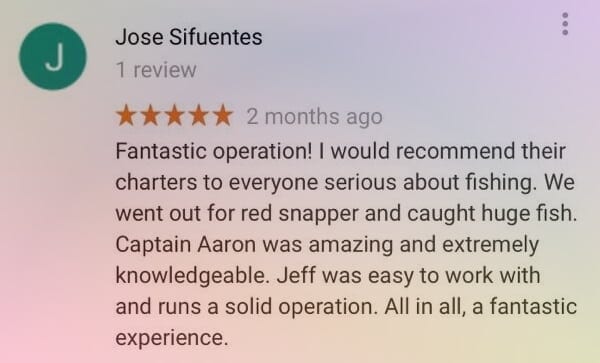 <p>These guys are the real deal! If you're looking for an all-inclusive fishing trip where you're guaranteed to catch some the the Gulf's biggest and baddest fish then these guys should be your next call. I have chartered many times, but I had the best experience here. They keep the groups small (4-5 people) or even private and we didn't go more than 10 minutes without having a fish on. Highly recommend!</p>