Big hogs, big guns and big adventure!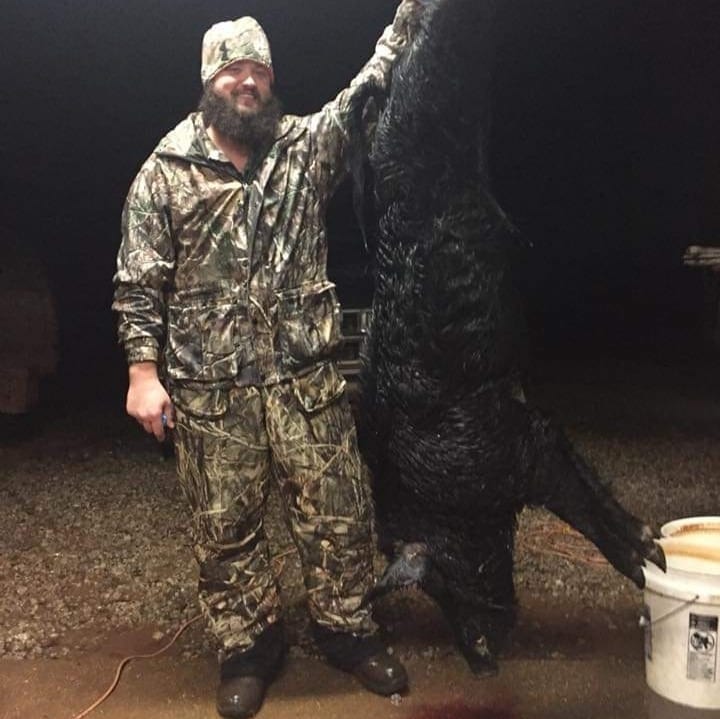 As featured on GunVenture with host Ryan Gresham.
The state of Florida has long been home to tens of thousands of feral hogs. These pigs are devastating farmers' crops and wiping out their bottom line. The abundance of food crops supplies these pigs with the perfect conditions for reproducing at an alarming rate. That is where you come in…
Intercoastal Safaris has guides with years of experience and real passion for taking clients out on their own personal hog hunt in Florida. Our guides scout and survey the fields year-round. We've got the unique ability to study several pieces of property in one night by dealing with local farmers.
Night Vision Hog Hunt in Panama City, Florida
Our night vision hog hunts take place one hour north of Panama City, Florida. The adventure begins at sunset and doesn't end until the ammo or hogs run out! Ride along with our guides as they scout for hogs in the fields. Once the guides locate targets, you'll exit the truck and stalk the hogs until you are within range. Our guide never leaves your side and our Panther DPMS Firearms with FLIR thermal night vision scopes and 20-round magazines of .308 165 gr. Full Boar ammo by Hornady will keep you satisfied all night long!
DOG HUNTING NOW AVAILABLE!
Our hog dog hunts also take place one hour north of Panama City FL,  but offer the option to begin at sunrise and end in the afternoon! This trip for two hunters offers the experience of hog hunting with dogs. Whether you choose to hunt during the day or night, our expert guide and his canine trackers will take you on a hunt that is NOT for the faint or wary: You'll be chasing wild boars through some of the roughest terrain Florida has to offer. Once the dogs bay (secure) the hog, the fight is on. Our goal is nothing short of giving our clients the opportunity to stab a wild boar with a knife!
Alabama Blackbelt Hog Hunting
Alabama's Blackbelt has long been home home to the best hunting opportunities the south has to offer. The "Hog Boom" in Alabama is in full swing with its abundance of row crops and low lying wetlands. When it comes to hog hunting we want you to help us kill them all.
Were not charging trophy fees and their are no bag limits for wild hog hunting in Alabama. Although hog hunting in Alabama is good year round we do not bait the hogs during deer season. In fact due to there abundance we find little need to bait at all. Keep in mind that you are hunting wild game, so there are no guarantees but we do have 1,000 acres of well-managed land. With the ability to hunt according to your personal preference, you're sure to have a value-filled experience.
HOG PROCESSING! 
Due to local and state regulations, Intercoastal Safaris is not allowed to process wild game. However, we've made arrangements with DOA processing located in Panama City FL. Simply give these guys a call at 850-381-6339 to make arrangements of dropping off your hogs. They are flexible and willing to meet you for drop off at the wee hours of the morning. Pricing info is below.
Skin – $10
Gut – $15
Cape – $20
Back Strap – $1.19 lb
Cube Steak – $1.99 lb
Ribs – $2.50 per pair
Smoked Sausage – Mild or Spicy $2.89 lb
Italian Sausage – Mild or Spicy $2.69 lb
Burgers – $1.99 lb
Book Your Hog Hunting Trip Today!
Be sure to call as far in advance as possible for these trips, as we only book one party of up to three hunters per night. We are very proud of our 90% success ratio on night vision hunts, which have no bag limit and no trophy fees! Ask about our $100 discount for active members of the United States Military.
| | |
| --- | --- |
| Length | One Night |
| Price | $450.00 |
| | |
| --- | --- |
| Length | One Day or One Night |
| Price | $500.00 |
Alabama Blackbelt Hog Hunt
| | |
| --- | --- |
| Length | Two Days |
| Price | $1800.00 |