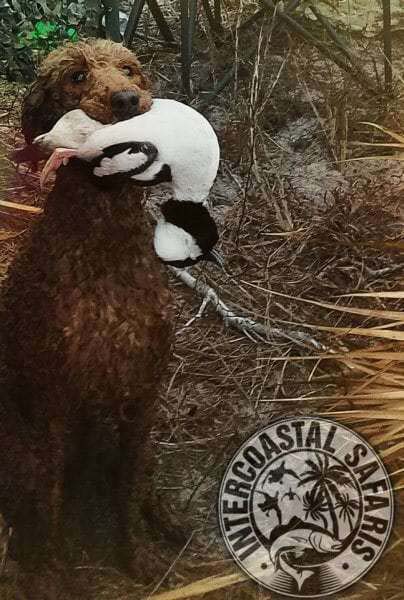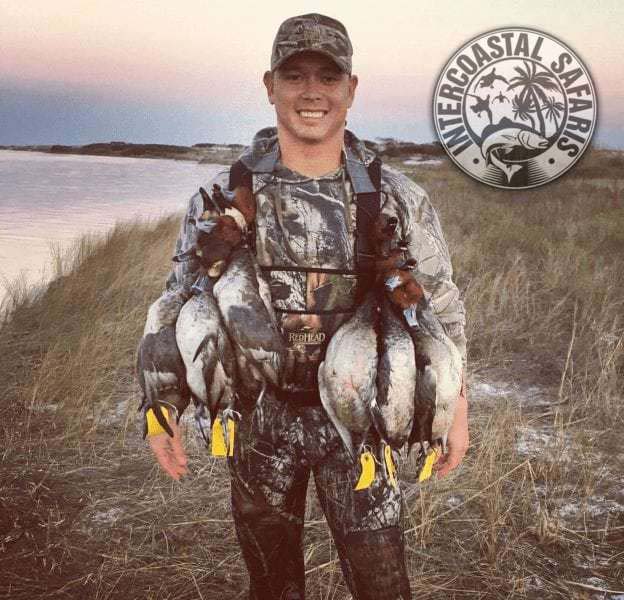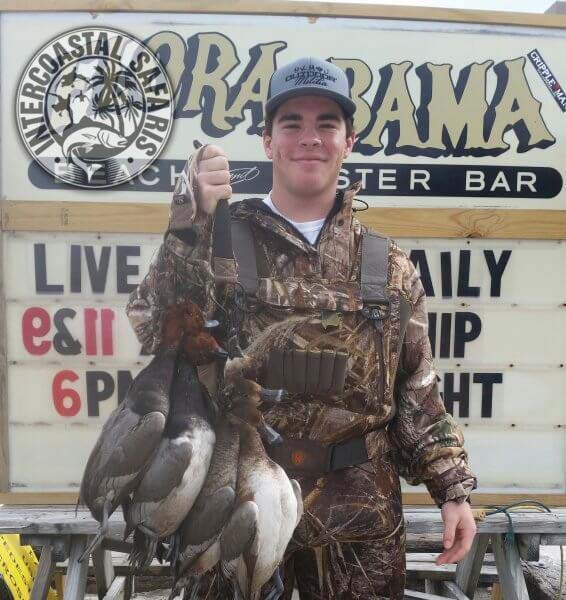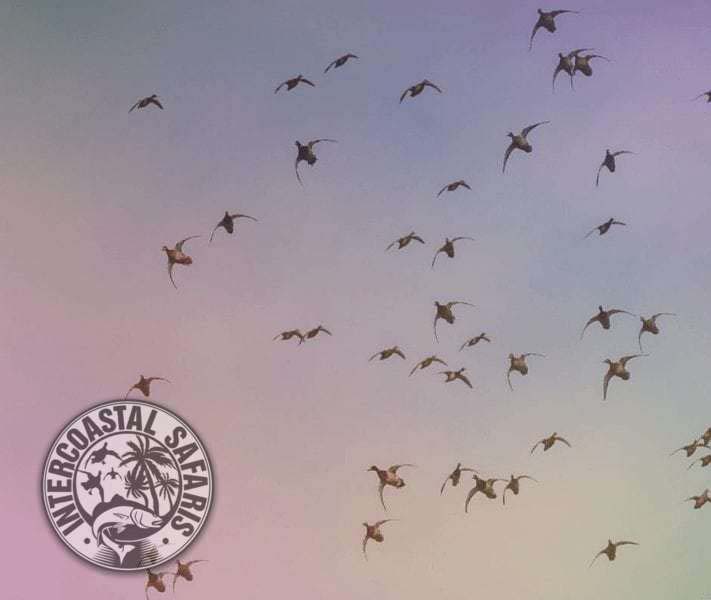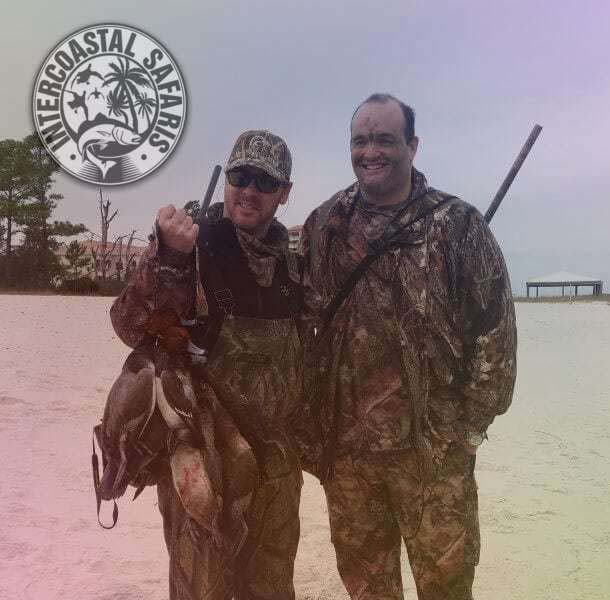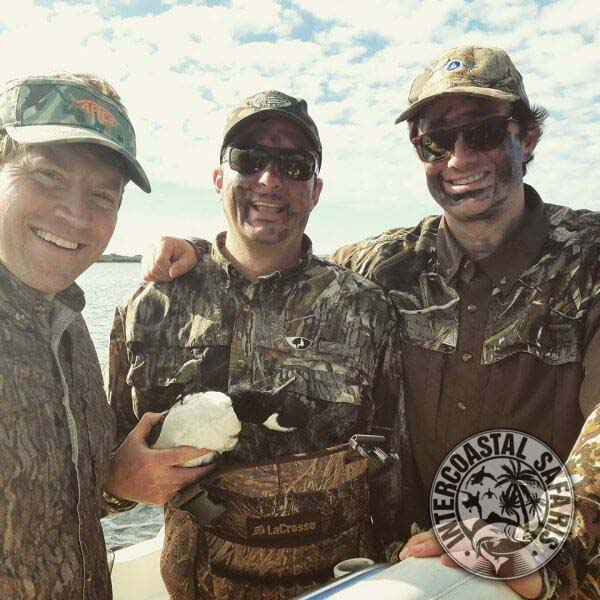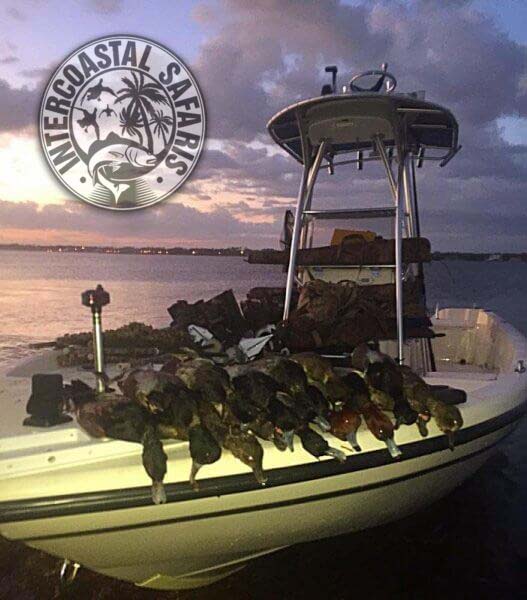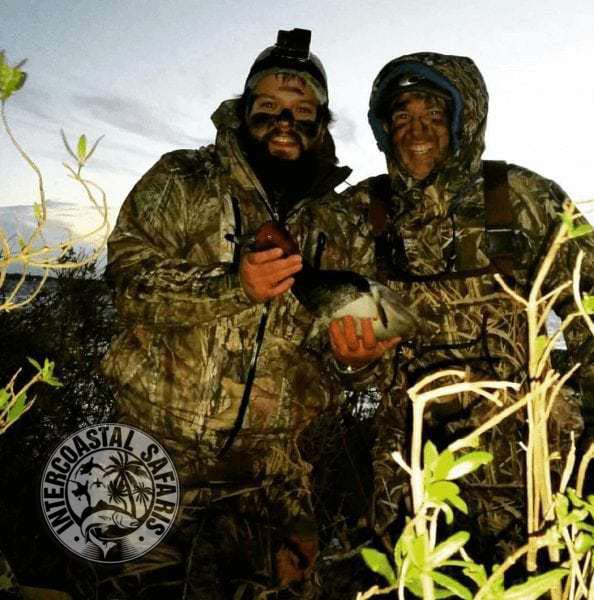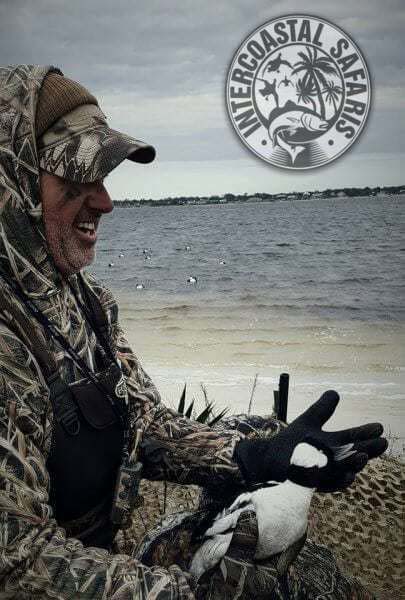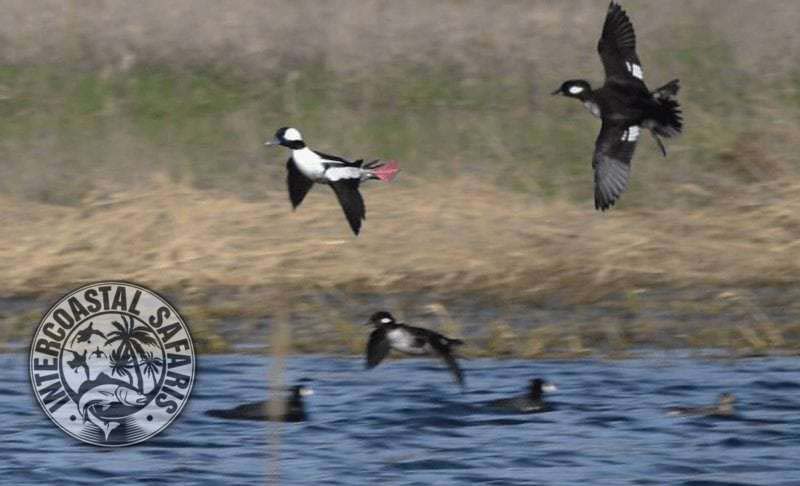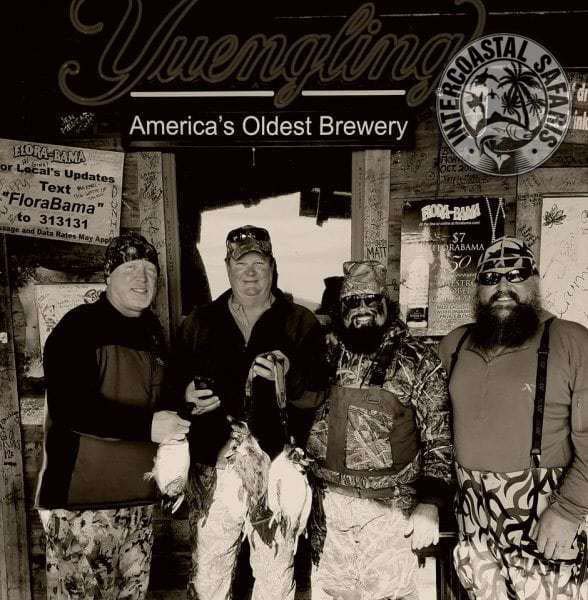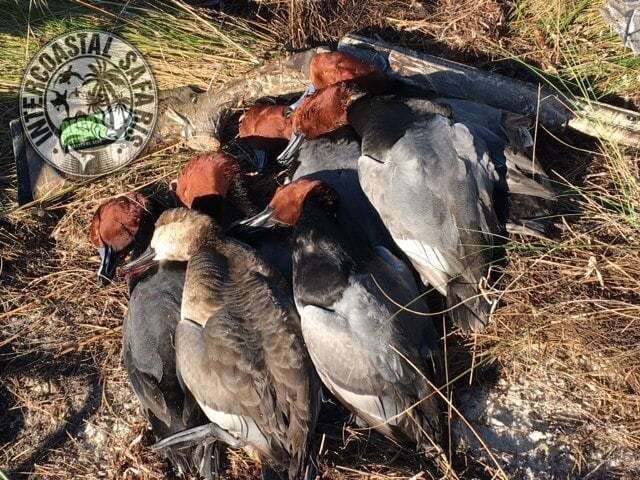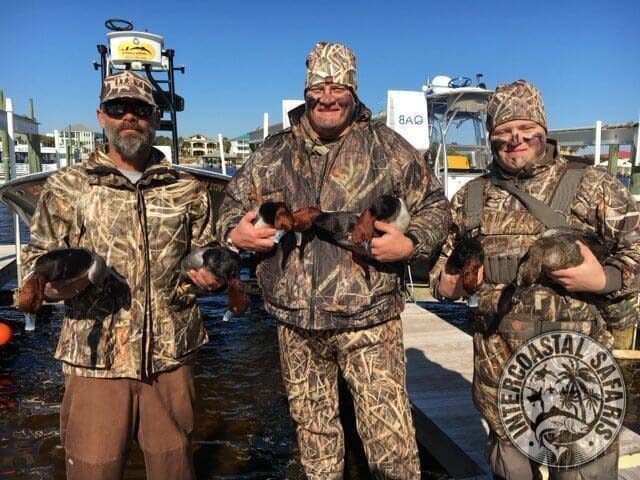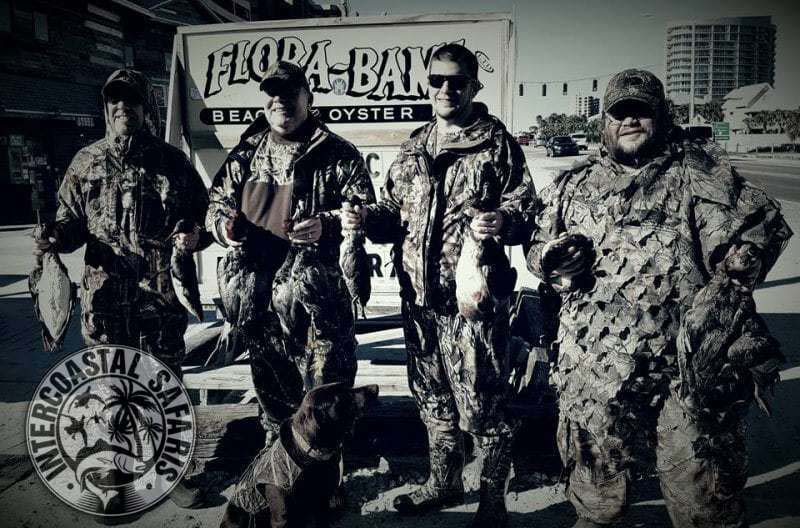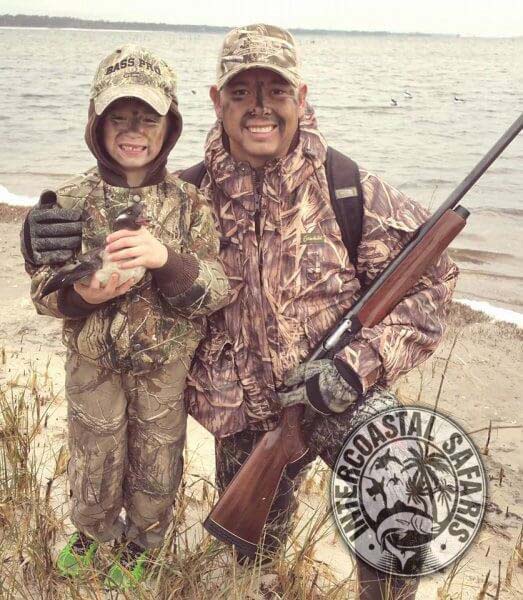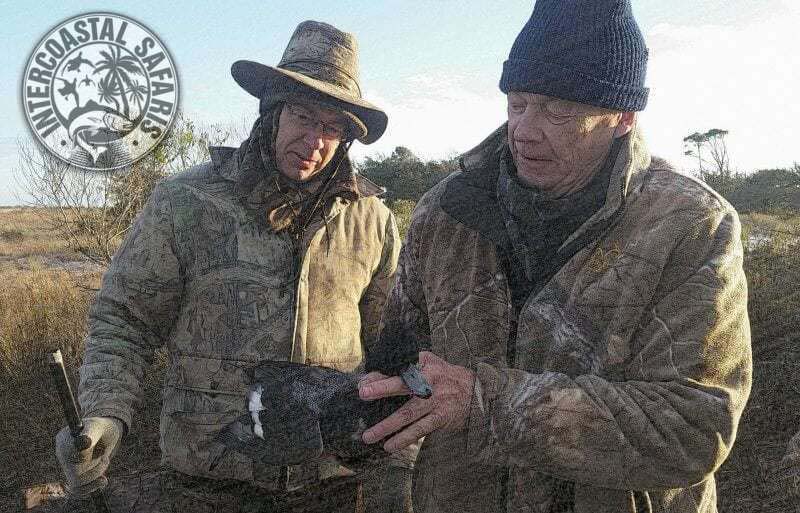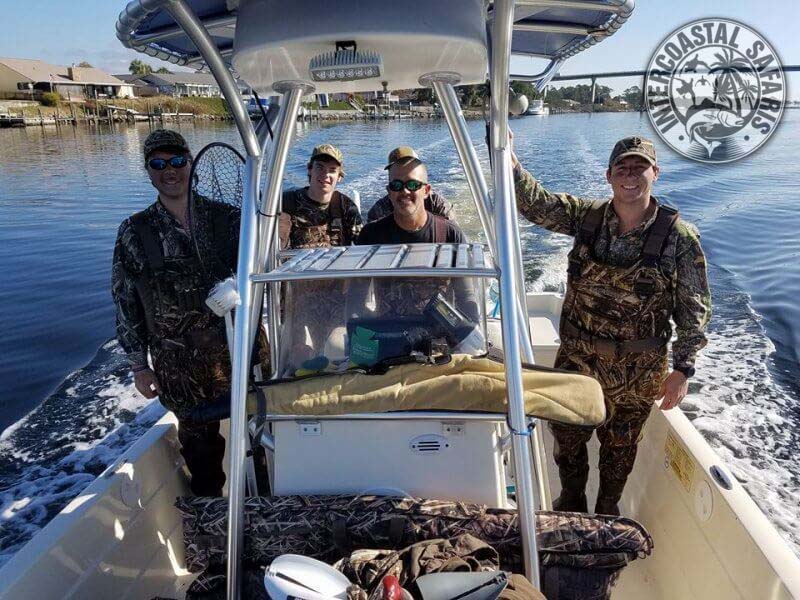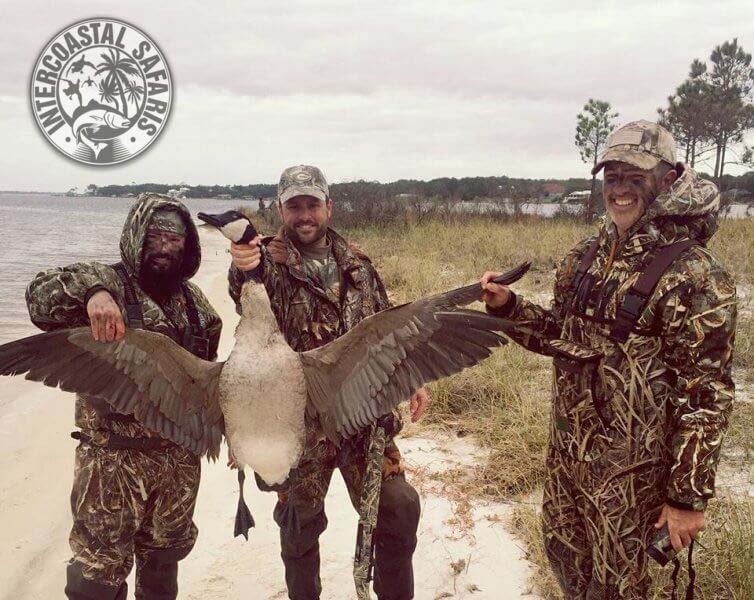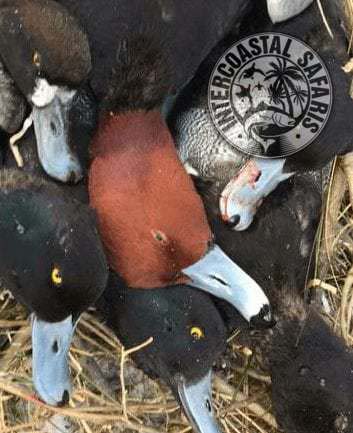 A uniquely coastal waterfowl hunting experience!
As featured on The Truth About Guns with Dan Zimmerman.

Intercoastal Safaris is pleased to provide a uniquely coastal duck hunting experience. There'll be no breaking ice in swamps or freezing your tail off in fields. We're hunting from white sand beaches on the beautiful Gulf Coast in Florida!
Redheads, Bluebills & Buffleheads are our primary targets. Additionally, Geese, Goldeneye,  Pintails, and Canvasbacks of most kinds are known to pop in on occasion.
Coastal Duck Hunting in Perdido Key, Florida!
Our day starts at the Flora-Bama Watersports Marina on Perdido Key, FL. We use customized center console bay boats to provide smooth, dry transport for our customers. Because our duck blinds care found at the south end of the migration route, the birds pile up creating the option of having successful morning and evening hunts. While our commercial permit allows our guides to run hunts in the National Park, hunters MUST supply their own hunting licenses.
NEW! PONTOON BOAT DUCK HUNTING!
Upgrade your coastal duck hunt to our new Pontoon duck hunting experience. This hunt allows sportsmen to leave the waders at home and set up camp in the middle of the Intracoastal Waterway! Pontoon boat hunts can also hold up to 6 hunters (instead of the 4 for center consoles). These hunts allow our guests the opportunity at moving if the ducks aren't in a certain location. With a grill for cooking sausages and a mini heater on boat, duck hunting has been taken to a whole new level of luxury.
Back Bay Duck Hunting in Alabama!
This hunting opportunity provides up to 2 hunters the opportunity to shoot a slightly wider variety of species that our coastal duck hunting around Perdido Key, FL. Since these hunts take advantage of areas such as the Perdido River, Palmetto Creek, Wolf Bay, Oyster Bay & Bon Secure, the launch point may vary from hunt to hunt. Up to two hunters and one guide will hunt from a surface drive Go Devel. You don't need waders for this hunt. Breakfast & game cleaning is provided.
Come experience this rare chance to hunt diverse waterfowl from white sand beaches while seeing redfish tailing in our spread. If a weekend filled with fishing AND hunting sounds great to you, check out our Ultimate Cast & Blast Special.
Check out our blog post on the essentials you'll need to come duck hunting with us. Click here! 
2 Man Alabama Back Bay Duck Hunt
| | |
| --- | --- |
| Length | 4 or 6 Hrs. |
| Price | $500.00 |
4-6 Person Coastal Duck Hunt
| | |
| --- | --- |
| Length | 4 or 6 Hrs. |
| Price | $800.00 |
Center Console Hunts
3-4 Hunters = $800 Total
Pontoon Boat Duck Hunts
4 Hunters = $1000
5 Hunters = $1200
6 Hunters = $1400
Choose 1 Option
AM Duck Hunt – 4:15AM to 9:00AM
PM Duck Hunt – 1PM to Sunset
4-6 Guests
2 Guide
Private Blind & Boat
Bird Cleaning
| | |
| --- | --- |
| Length | 4 or 6 Hrs. |
| Price | $400.00 |
2 Hunters = $400 Total
3 Hunters = $600 Total
4 Hunters = $800 Total
AM Duck Hunt – 7:00AM
PM Duck Hunt – 1PM
Up To 4 Guest
1 Guide
Hot Breakfast In Blind
Private Blind
Bird Cleaning @ $2 Per Bird
Wild Game Meal w/Drinks
| | |
| --- | --- |
| Length | 4 or 6 Hrs. |
| Price | $1500.00 |
1 Hunter = $1500 Total
2 Hunters = $1500 Total
3 Hunters = $2000 Total
4 Hunters = $2000 Total
AM Duck Hunt – 4:15 AM to 9:00 AM
PM Quail Hunt – 1:00 PM to 4:00 PM
Available Weekends Only (Nov – Jan )
4 Guest
 AM Coastal Duck Hunt (Tip Included)
1 Guide & 1 Mate
Hot Breakfast In Blind
Private Blind & Boat
Wild Game Meal w/ Drinks (Tip Included)
PM Quail Hunt (Tip Included)
1 Guide w/ Bird Dogs
12 Birds Per Hunter
Rental only available to 21 & Up with signed waiver.
$50 refundable deposit
Appropriate choaks will be provided.
Ammo is not available for sale or rent.
12 Gage – Semi Auto
$100/Day
12 Gage – Semi Auto
$50/Day
12 Gage – Side x Side
$50/Day
Beverages
Private Charter Boat
Two Guides
Game Processing
Hot Breakfast & Coffee
Light Snacks
Private Blind
10, 12, or 20 Guage Shotgun with Modified Choke
2 Boxes of Steel Shot BB's and #2 Recommended
FL License & Stamp, Fed Stamp, National Seashore Permit
Be sure to read and understand our disclaimer, and call us with any questions you may have. As sportsmen, we all know things don't always go according to plan. Rain, cancelled flights, hurricanes and any number of issues can mess with our best-laid plans. With that being the case, Intercoastal Safaris, LLC strongly suggests our guests consider purchasing CPO Sportsman's Travel Insurance (PDF) for any excursion that involves lodging or carries a total price of over $1,000. It's the smart thing to do!
Outside of a 72 hour time frame leading up to the hunt, deposits are only refundable when trips are canceled due to weather.  An intoxication of any kind is cause for non-refundable cancellation is fully up to guides discretion. Each hunter is responsible for his or her own hunting permits. Failure to produce proper permits is cause for hunt cancellation. The remaining balance is due in cash at the beginning of each hunt along with signed hunting agreement & liability waiver. Persons under the age of 19 must be accompanied by an adult 21 years of age or older. 
Travel insurance strongly recommended
 for any excursion equal to or above $1000. Lodging is non-refundable for any reason.
<p>A can't miss hunting opportunity. I've duck hunted in Arkansas, Mississippi, Texas and Georgia and I've never seen hunting as good as they have it down there. They have guides who can truly put you on crazy redhead action. The gear was great, the service was great, and the scenery was something else. Can't wait to book again next year.</p>