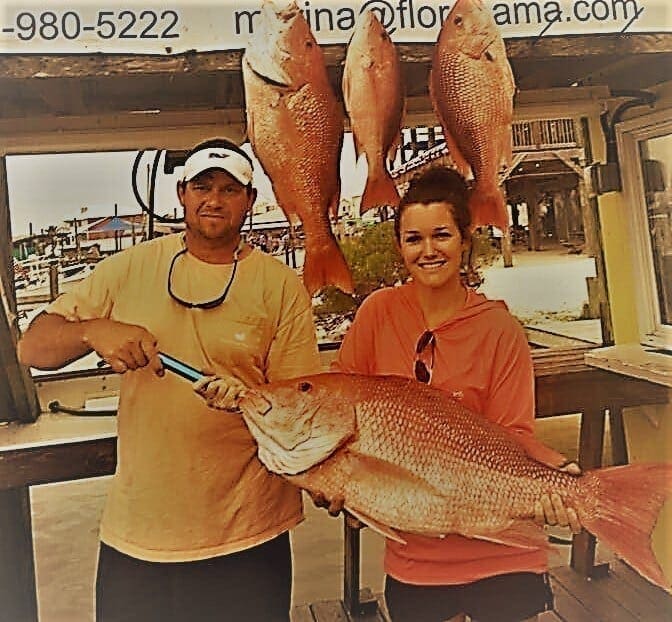 Aaron Abbott
RED SNAPPER FISHING ON THE GULF COAST
Here on the Gulf Coast red snapper season is by far one of the busiest times of the year, and for a good reason. The Gulf Coast in general (particularly the Orange Beach, AL area) is known for giant red snapper. The core of red snapper season runs smack dab in the middle of the summer beach season which creates a perfect storm for lots of calls for Intercoastal Safaris. Over the past 2 years our hospitality manager (Jeff Sanders) has compiled a list of frequently asked questions. If this blog does not answer your specific question, please give us a call at 850-375-2223 and we will assist you in any way we can.
FAQ FOR RED SNAPPER
Q: Can you guarantee me a fish?
A: While our success ratio is extremely high, we can not guarantee anything. Fishing just like any type of outdoor sport is an adventure in itself. As much as we would love to be able to guarantee a successful trip, mother nature sometimes has other plans.
Q: Do I need a fishing license?
A: No license required. All of our captains have charter permits that cover any guests that are fishing on their vessel. When you come on fishing trip with Intercoastal Safaris, the only things you should bring are some sunscreen, cooler of beverages, and a good attitude. We will take care of the rest.
Q: When is Red Snapper Season?
A: This is always a difficult question to answer. Each year the Florida Wildlife Commission and the Wildlife Commission of Alabama change red snapper season dates each year. While there is a consistent schedule for the entire month of June, anything outside of June is usually not decided until weeks before the season is to open. If you're looking to book a red snapper trip, a safe bet would be to plan your trip or vacation in the month of June. Below are the season schedules for 2017
ALAMBAMA STATE WATERS: May 26th- July 31st
FLORIDA STATE WATERS: May 27th – July 9th
Note: For 2017, red snapper has also been opened during the weekends in September and October. So if you can't make it down during the summer, you still have an opportunity in the fall.
Q: How many Red Snapper can I keep?
A: This also changes from year to year. For 2017 the limit is 2 per person on the boat. So bringing larger parties will allow you to bring back a bigger haul of snapper.
Q: How much does the cleaning of our fish cost?
A: Fish cleaning is included in your red snapper fishing trip, unless you've booked a trip with us in the Panama City. Due to marina regulations all fish cleaning must be done at the local docks seafood market, at a price of 0.75 cents per pound.
Q: How big is the boat we are fishing on?
A: The answer to this question has a few factors. The first is how many people you have on your trip and or what sort of fishing budget you have. Typically a 4 person trip would be done on one of our smaller center console boats. However don't think that because the boat is small, that will effect the size of fish haul you can bring in. A smaller boat has its own advantages. Our center console boats are super quick on the water, allowing for lesser boat rides and more time to fish. Typically any party over 5 people we will book on one of our fishing yachts. These boats can take parties of 6-10 people. They also include bathrooms, air conditioning, and small kitchens. These boats generally have a captain and a mate and have a minimum of 6 hours of fishing. Seeing that the boat is bigger, it needs more time to travel to its fishing locations which is why a 6 hour minimum is a must. However with bigger boats, means larger fish hauls. Don't be discouraged however, if you only have a party of 3 or 4 and still want to fish on one of our fishing yachts, that is not out of the question. Take a look at the video below this question from Stephen Lee, the owner of Intercoastal Safaris. Stephen will give you an in depth look on the difference between boat size.
BOOK YOUR TRIP TODAY!
For more information on this years red snapper season please call our office at 850-375-2223. Pricing, photos and additional information can be found by clicking here.